Chris Pratt first rose to stardom in 2014 when he was casted to play Andy Dwyer in Parks and Recreation, a lovable nimwit who quickly became a fan-favorite. Pratt used this newfound fame to leverage his way into the world of film, starring in the most recent Jurassic World series, Marvel's Guardians of the Galaxy series and providing voiceover work for several of the Lego films. Pratt looks to be taking his career a step further once again, this time being enlisted to both produce and star in the upcoming film The Black Belt. As the title may indicate, The Black Belt will follow a young man on a journey of self-discovery on his quest to learn the historic artform of karate, with his Uncle serving as his mentor.
Though the story is about a young man trying to find his way, it is a comedy at heart, with Pratt rumored to play the karate sensei Uncle. If fans of Parks and Recreation remember, Pratt is no slouch when it comes to karate, hosting a fictional children's program under the moniker "Johnny Karate." Though he is unlikely to revive such an absurd character for this film, Pratt can surely still be counted on to make it as entertaining as any of his past endeavors. Pratt is set produce the film alongside Jon Schumacher under their production company Invisible Productions alongside Monarch Media, an independent film company, with Randall Green set to pen the script.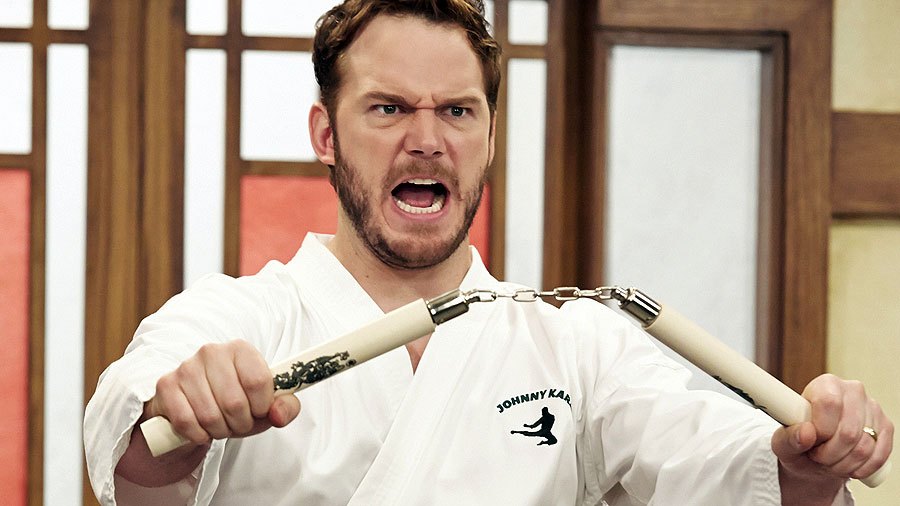 Pratt seemingly has a packed schedule ahead of him, set to appear in the next Thor film and reprise his role for the next chapter of Guardians of the Galaxy, as well as a new television series he is producing via his Invisible Productions imprint. He is certainly no slouch however, with a laundry list of film and television credits that only further illustrate his talents. This upcoming film should be an interesting direction for Pratt to say the least, with many critics already drawing comparisons between The Black Belt and the legendary Karate Kid series. While it is safe to assume Pratt is not looking to replicate the magic of Karate Kid, he will certainly be looking to create his own magic, and fans surely have something to be excited for.